Researched and written by the Cumberland Township Historical Society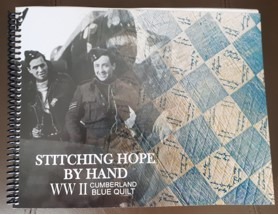 On sale at $25.00, contact Jeannie Smith at 613 833 2877 or e-mail at jeannie279glen@rogers.com.
The quilt itself will be on display in Dupuis house at the Cumberland Heritage Village Museum from Mothers' Day until Thanksgiving.
En français le titre est le même, Coût $25.00, contactez Jeannie Smith au 613 833 2877 ou par courriel : jeannie279glen@rogers.com.
La couverture elle-même sera en exposition à la maison Dupuis au Musée-village du patrimoine de Cumberland de la Fête des mères à l'Action de Grâce.